Resources on Sex, Sexuality & Gender
by Justin S. Holcomb, Lindsey A. Holcomb
Simple, relatable story for two- to eight-year-old children, designed to help them protect their bodies.Includes colorful, age-appropriate illustrations. Conveys a clear message that God made every part of the human body and that every part is, therefore, good (the doctrine of creation). Gently opens the conversation about sexual abuse that every family needs to have. Facilitates open conversations about appropriate and inappropriate touch. Overcomes confusion, secrecy, and embarrassment about bodies with truth.
God Made All of Me is the first children's book written by Rid of My Disgrace authors Justin and Lindsey Holcomb. Parents of young children themselves, the Holcombs regularly counsel victims of sexual abuse and are profoundly aware of the dangers kids face. Their simple and relatable story, designed to help children protect their bodies, will be an important resource for every family with young children.
by Marty Machowski
God Made Boys and Girls helps children understand that their gender is a gift from the God who made them and loves them. The story begins as the girls and boys at Grace Christian School are discussing if boys will always be boys and girls will always be girls.
Their teacher explains that God gives each of us the gift of being male or female before we are born, and that you continue to be a boy or a girl whether you like to climb trees or play house, play tag or color pictures, cause a ruckus or sit quietly.
In a world where there is so much confusion about gender and identity, pastor and best-selling author Marty Machowski shares the simple, clear truth that all of us are made in God's image as either male or female--and what God made is very good!
Included in the back of the book is a special section just for parents and caregivers that gives biblical guidance and help as they have this important conversation with their children.
by Gary Yagel
Today's world is constantly sending our children unbiblical messages about gender identities, gender roles, same-sex attraction, and sexual fulfillment. Gender fluidity, which is at the core of many of these views, denies the sovereignty of God and the creation of man and woman as His image-bearers. The inherent uniqueness and value of each gender is not clearly understood by our culture because of historical stereotypes and abuses. We, therefore, must help our children put a biblical lens over whatever message comes to them from the culture. That biblical lens is called complementarianism. "God created them male and female" to complement, i.e., complete each other. This mini-book is designed to equip Christian adults to understand the culture shaping their children's views of sexuality, so they can help their children respond to the deconstruction of male/female gender identities and roles taking place in our culture with gospel grace towards the sexually broken and with a whole-hearted celebration of the biblical teaching of complementarianism. Gary Yagel (MDiv., DMin.) serves as Executive Director of Forging Bonds of Brotherhood, and as the Men's Ministry Consultant for the Presbyterian Church in America. He is a trained presenter of Man in the Mirror's No Man Left Behind Seminar, and has taught as a visiting professor at Reformed Theological Seminary.
by Kristen A. Jenson
Young children deserve to be armed early against internet dangers. Good Pictures Bad Pictures Jr. makes it easy for parents to protect their young kids ages 3 to 6. Using gentle, age-appropriate messages, children will learn to Turn, Run & Tell when they are accidentally exposed to inappropriate content.Written by best-selling author Kristen A. Jenson of the original Good Pictures Bad Pictures book, the Jr. version is a comfortable, effective way for proactive parents to empower their young kids with their first internal filter!
by Kristen A Jenson
Want a natural and comfortable way to talk to your kids about pornography? This newly revised edition of the original bestseller makes that daunting discussion easy! Good Pictures Bad Pictures is a read-aloud story about a mom and dad who explain what pornography is, why it's dangerous, and how to reject it. Featuring easy-to-understand science and simple analogies, this internationally-acclaimed book engages young kids to porn-proof their own brains. With Good Pictures Bad Pictures, your child will never be caught off guard by disturbing videos or peer pressure! The 5-point CAN DO Plan teaches kids exactly what to do to protect their young minds when they see pornography.
Parents don't need to wonder what to say--simply read Good Pictures Bad Pictures to your child and move forward with confidence! You can even use this book before beginning the sex talks!
Check out these new features in the second edition.
"Let's Talk!" discussion questions at the end of each chapter help kids deepen their understanding so they'll be even more prepared to reject pornography.
All new Tips for Parents and Caregivers section offers practical advice for raising porn-proof kids in the digital age.
The most up-to-date science provides kids with even more powerful arguments against pornography.
A beautifully redesigned interior makes it easier and more fun to read!
by Luke Gilkerson
When it comes to the matter of teaching kids about sex, Christian parents are often confused about what to say and when to say it. The Talk is a series of 7 studies, all anchored in the Scriptures, that helps parents to talk meaningfully with children about sexuality. The Talk was written for parents to read with children ages 6 to 10 years old. The study supplies elementary-age children with foundational truths about sexuality at a level they can understand.
by Luke Gilkerson, Trisha Gilkerson
Acne. Pubic hair. Breasts. Squeaky voices. Menstruation. Nocturnal emissions. Make no mistake, puberty can feel like an awkward time in a child's life. But with the right perspective, children can be taught to anticipate puberty as a blessing. Changes is a series of 7 studies, anchored in the Scriptures, that helps parents talk meaningfully with children about the mental, emotional, and physical changes puberty brings. Changes was written for parents to read with children ages 8 to 12 years old. The study supplies children with a Bible-based understanding of puberty in a language they can understand.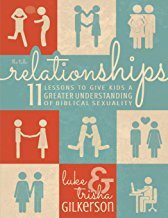 by Luke Gilkerson, Trisha Gilkerson
Relationships was written for parents to read with their kids ages 11-14 years old. This study will help prepare your teen for sexual tmptations that they are sure to encounter and give them a greater understanding of biblical sexuality. As Christian parents, it is of utmost importance that we're guiding our teens through the sometimes overwhelming sexual desires and temptations they experience. Relationships is a series of 11 Bible studies that provide a foundational understanding of how to navigate sexual temptations and desires in a godly manner.
by Tim Geiger
Explaining LGBTQ+ Identity to Your Child: Biblical Guidance and Wisdom
LGBTQ+ identities and their widespread acceptance have produced a host of questions and quandaries for Christian families. How do you help your child navigate a world where their classmate may be transgender and their neighbors a gay couple? How do you explain these issues and teach children to respond to LGBTQ+ identity with truth and love?
Tim Geiger explains how best to help young people understand LGBTQ+ identities and struggles in light of Scripture, while modeling the compassionate concern of our Savior. He also shows you how to build authentic friendships with members of the LGBTQ+ community, always remembering our common need for grace, repentance, and faith.
Tim Geiger, MDiv, is the Executive Director of Harvest USA and has been on staff since 2003. In 1997, he went to Harvest USA for help, as he struggled as a Christian with same-sex attraction for twenty years. Tim is a graduate of Westminster Theological Seminary and a Teaching Elder in the Presbyterian Church in America.
by Stan Jones, Brenna Jones
Young children can begin to develop a wondrous appreciation for God's marvelous gift of sexuality by understanding some of the basics of fetal development. In this book we discuss the growth of a child inside a mother's body and the birth process. With such instruction, young children begin to develop a trust for God's law and to see God as a lawgiver who has the best interests of His people at heart. God is the giver of good gifts!Designed for ages 3-5, and using age-appropriate language and illustrations, this book explains to young children the marvelous bodies God gave them.
by Carolyn Nystrom
Before I Was Born emphasizes the creational goodness of our bodies, our existence as men and women, and our sexual organs. This book introduces new topics as well, including the growth and change that occur as boys and girls become men and women. It includes a tactful but direct explanation of sexual intercourse between a husband and wife. Before I Was Born explains in age-appropriate language the basic nature of sexual intercourse between a husband and wife and discusses conception, fetal development, childbirth, and breastfeeding. For children ages 5 to 8.
by Stan Jones, Brenna Jones
Your kids know about sex. But what they've gathered from TV, other kids, or the internet doesn't tell them everything or answer all of their questions. What's the Big Deal? was written to help parents provide the answers to their 8-to-12-year-olds. This book explains the basic facts about sex and related issues such as: Why God made adults so that they want to have sex, What God actually says in the Bible about sex and why it's designed for marriage, The amazing changes ahead of you during puberty How to respond when you feel sexual pressure from friends, TV shows, movies, and magazines.
Your kids can read this book with you so you can discuss it together. This provides them the safe space to ask hard questions they might find embarrassing. The book will help kids understand what a beautiful and exciting gift from God sexuality is meant to be.
Now revised and updated with: Separate chapters on puberty for boys and girls, a chapter on the dangers of pornography, an expanded age range (formerly 8 to 11, now 8 to 12).
by Stan Jones, Brenna Jones
Puberty marks the beginning of significant changes in a child's relationships with parents and the opposite sex. It's an exciting but often stressful time as a child transitions to adulthood. Facing the Factsgives children the information needed to understand exactly what's happening to their bodies during the years ahead and why God planned it to happen just that way. They'll learn about How girls' and boys' bodies change, both inside and out Exactly how a woman gets pregnant and gives birth Why God wants you to save sex for marriage Love, dating, and how relationships mature Now revised and updated with An introduction to differing views on sex based on worldview More thorough material on Christian morality and the broader theological meaning of sex as appropriate for a young person Chapters on masturbation, sexual addiction, gender identity, and same-sex love.