by Ella K. Lindvall
Sure to move to the top of bedtime "read it again" lists! Bright illustrations and easily understandable text make each entry in this award-winning series a hit with toddler-age children. The action-packed accounts of Zaccheus, Jesus, "The Man Who Said Thank You," and others prompt little ones to consider God's love and care.
by David R. Helm
The Bible is a big book, about a big God, who keeps a big promise! Everyone loves a good story—especially children! But what we sometimes overlook is that the Bible is more than a collection of great stories. It is the real account of God's love for the world. The Big Picture Story Bible presents this remarkable true story. Simple words and striking illustrations unfold the storyline of God's Word from Genesis to Revelation. All ages will enjoy this exciting discovery of a God who keeps his big promise. Download a free audio reading at BigPictureStoryBible.com.
by Jared Kennedy
The Beginners Gospel Story Bible is a gospel-centered, Bible storybook for toddlers and preschoolers with fifty-two Bible stories retold in a simple and compelling way. Author Jared Kennedy traces through the stories of the Old and New Testament how God keeps his promises in surprising ways better than anyone could have ever thought or imagined! Each story highlights for young children Gods story of redemption through Jesus and the unexpected ways that God's grace and mercy are revealed throughout the Bible.
Children will hear the good news of God's love for them clearly expressed in ways that will speak to their young hearts. Each story ends with a question that parents and caregivers can use to further reinforce the story. Brightly colored illustrations highlight each story and add fun teaching elements of counting, opposites, patterns, and object recognition to keep the youngest child's attention.
by Marty Machowski
Can a Bedtime Story Actually Change Your Life? It is easy to forget Jesus in the midst of frantic schedules, family squabbles, and conflicting priorities. But the truth is that he is the hero of every story, including these ordinary ones. This is why Marty Machowski puts God's plan of salvation in Christ on continuous display in The Gospel Story Bible. The easy-to-read storybook introduces your family to many captivating people, places, and events from the Bible's Old and New Testaments, showing how each one ultimately points to Jesus. As you share these Bible Stories together, you and your family will meet Jesus and learn a new, life-changing way of recognizing Christ as the hero of every story. Vibrant illustrations by A. E. Macha, child-friendly discussion questions, and Scripture references accompany each narrative to help you lead your family in exploring the Bible. You will be delighted to discover how easily even a young child can understand the original text of a story that he or she has already come to love. Ideal as a storybook for your preschooler, a devotional for your grade school student, a refresher for the adult believer, or an introduction for the new one, The Gospel Story Bible is also a companion to Long Story Short: Ten-Minute Devotions to Draw Your Family to God and the forthcoming Gospel Story Sunday School curriculum.
by Sally Lloyd-Jones
The Moonbeam Award Gold Medal Winner in the religion category, The Jesus Storybook Bible tells the Story beneath all the stories in the Bible. At the center of the Story is a baby, the child upon whom everything will depend. Every story whispers his name. From Noah to Moses to the great King David---every story points to him. He is like the missing piece in a puzzle---the piece that makes all the other pieces fit together. From the Old Testament through the New Testament, as the Story unfolds, children will pick up the clues and piece together the puzzle. A Bible like no other, The Jesus Storybook Bible invites children to join in the greatest of all adventures, to discover for themselves that Jesus is at the center of God's great story of salvation---and at the center of their Story too.
by Starr Meade
"Let them thank the Lord for his steadfast love,for his wondrous works to the children of man!" -Psalm 107:8
We want our children to know the God we love and worship, but communicating abstract truths about God can sometimes be difficult. It's good for us and for our children that God wants to be known. So he doesn't simply tell us what he's like; he shows us in the stories of the Bible. As the sequel to Mighty Acts of God, this volume tells 90 more stories from the Bible, beginning with the account of God creating Eve and ending with the epic visions in Revelation. Each story highlights an aspect of God's character and includes a helpful discussion guide to help the whole family see and understand the wondrous works of God!
by Catherine F. Vos
Originally published in 1935, this beloved Bible storybook is still a favorite with todays children, parents, and teachers (including Ruth Bell Graham). More than 200 stories from the Old and New Testaments are retold in simple language appropriate for 4- to 12-year-olds, while remaining faithful to Scripture. Colorful illustrations enhance the text.

Publication Date: 9/1/1983
Pages: 382
Reading Level: Age 4 and Up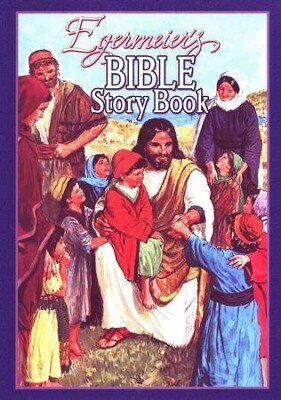 by Elsie Egermeier
Beloved for generations, Egermeier's® Bible Story Book has sold millions of copies and continues to bring Bible stories to life for children and adults around the world. Many of us remember this classic story book as the first one from which our parents and Sunday school teachers taught us. This newly updated version carries on an outstanding tradition of excellence.
Features 312 bible stories from Genesis to Revelation (Old and New Testaments). Engaging, easy-to-understand writing style has captivated children for generations. Biblically accurate without doctrinal bias. 122 full-color, full-page illustrations by artist Clive Uptton.
Here's the most complete picture Bible ever! And it features a captivating, up-to-date artwork style--making it the perfect Bible for today's visually focused culture. The Action Bible presents 215 fast-paced narratives in chronological order, making it easier to follow the Bible's historical flow--and reinforcing the build-up to its thrilling climax. The stories in The Action Bible communicate clearly and forcefully to contemporary readers. This compelling blend of clear writing plus dramatic images offers an appeal that crosses all age boundaries. Brazilian artist Sergio Cariello has created attention-holding illustrations marked by rich coloring, dramatic shading and lighting, bold and energetic designs, and emotionally charged figures. Let this epic rendition draw you into all the excitement of the world's most awesome story.
Family Devotion / Worship
by Susan Hunt, Richie Hunt
These commandments that I give you today are to be upon your hearts. Impress them on your children. Deuteronomy 6:6-7a Your children are a blessing from God. A gift that brings an abundance of joy and the privilege of teaching them God's ways. When they're young their potential to learn is amazing. And because actions and beliefs go hand in hand, the lessons they learn from you now will shape their lives forever. This wonderful book, with its easy-to-use story format, can help you teach the basic truths of the Christian faith to your children. They'll learn right along with Caleb and Cassie that God's ways are the best--and that even as kids, they can live for His glory every day.
by Bruce A. Ware
Equips parents to guide their young children through all major doctrines in an understandable, chapter-a-day format. Sure, it's easy to teach your children the essentials of Christian theology when you're a theology professor. But what about the rest of us? With Big Truths for Young Hearts, Bruce Ware, (you guessed it!) a theology professor, encourages and enables parents of children 6-14 years of age to teach through the whole of systematic theology at a level their children can understand. Parents can teach their children the great truths of the faith and shape their worldviews early, based on these truths. The book covers ten topics of systematic theology, devoting several brief chapters to each subject, making it possible for parents to read one chapter per day with their children. With this non-intimidating format, parents will be emboldened to be their children's primary faith trainers-and perhaps learn a few things themselves along the way.
by Marty Machowski
Transform Your Family with Ten Minutes a Day in the Gospel Story Christian parents know the importance of passing the gospel story on to their children, yet we live in a busy world filled with distractions. Schedules collide, there is homework and yard work and dishes and laundry, the car s oil should be changed, there are phone calls to make...and before you know it, everyone is getting to bed late again. The Bible can seem like a long story for an active family to read, but when you break it down into short sections, as Marty Machowski does, family devotions are easy to do. Long Story Short will help busy parents share with their children how every story in the Old Testament points forward to God s story of salvation through Jesus Christ. You won t find a more important focus for a family devotional than a daily highlighting of the gospel of grace. Clever stories and good moral lessons may entertain and even help children, but the gospel will transform children. The gospel is deep enough to keep the oldest and wisest parents learning and growing all their lives, yet simple enough to transform the heart of the first grader who has just begun to read. Ten minutes a day, five days a week is enough time to pass on the most valuable treasure the world has ever known. Long Story Short is a family devotional program designed to explain God s plan of salvation through the Old Testament and is suitable for children from preschool through high school.
by Susan Hunt
Thy Word have I hid in my heart that I might not sin against thee. -Psalm 119:11 Knowing the Bible can help you know God better. Here is a colorful, story-filled way for even the youngest child to take God's Word to heart--and learn the alphabet too! Presented in an easy-to-use story format that applies individual Bible verses to real-life situations, this illustrated book for 3- to 7-year-olds is perfect for reading to your children or grandchildren, and great for use in churches, Christian schools, Bible clubs, or home schools. It can also be easily adapted for family devotions with young children. The ABCs are building blocks to your child's formal education. And these verses are the building blocks of the soul--the building blocks that can lead to eternal life.
by Marty Machowski
Easy-to-Use Devotional Helps Parents Share the Living Gospel Story! Old Story New makes it easy for parents to stay on the life-giving course of sharing the gospel story with their family. This second volume in Marty Machowski's family devotional series continues the gospel story begun in the Old Testament devotional, Long Story Short. Using the same effective ten-minute a day structure, it connects children to living gospel truth through 78 New Testament stories. Simple discussion questions (and answers) for each day's devotion help children understand and connect the story of salvation to their own lives. Old Story New, part of the Gospel Story for Kids program, is suitable for children from preschool through high school.
by Nancy Guthrie
Getting the kids to turn off the TV and video games is challenge enough--let alone gathering as a family to read and discuss the Bible! One Year of Dinner Table Devotions & Discussion Starters helps families start where they are already gathered together on a daily basis--around the dinner table. As the meal comes to a close, family members can take turns turning to the dinner-table devotion for that day, designed to be done together as a family in 10 to 15 minutes. The result is a meaningful daily discussion in which every family member can participate, drawing the whole family closer to God . . . and each other.
by Kenneth N. Taylor, Jenny Brake
Encourage your little ones to learn and grow with God with Everything a Child Should Know About God from bestselling author Kenneth N. Taylor. Designed for parents to read aloud to children, this hardbound book features whimsical illustrations throughout, each chapter has a brief explanation and a related question to pose to children. Dr. Taylor explains in child-friendly language the essential Bible truths you want your child to know, such as why Jesus came to earth and how the Holy Spirit helps us.
by Nancy Guthrie
Best-selling author Nancy Guthrie and much loved illustrator Jenny Brake team up on this biblical theology of prayer for children. Nancy explains in child-friendly language what prayer is, how and why we should pray, and the things we can pray about. There is a Bible verse for each topic, and a prayer for children to make their own. This book will introduce children to the gift of prayer and will encourage them to enjoy speaking to their father God.
by G. I Williamson
Catechism for Young Children: An Introduction to the Shorter Catechism
by Starr Meade
Nature reveals majestic truths about God—truths that help us know him better. God's Mighty Acts in Creation helps children recognize those wonders, and what they tell us about their Creator. As Starr Meade, author of Mighty Acts of God, guides young readers through the six days of creation, she points to how creation displays the wisdom and power of God. She also helps readers explore and apply other references to nature in the Bible by answering questions such as: What did Jesus mean when he claimed to be the true vine? How is all flesh like grass, and how should that affect the way we live? What was God revealing about himself when he made the sun stand still for Joshua? Each reading includes a key verse, stimulating questions, and engaging activities, all geared toward elementary-aged children. Whether parents use this book for family devotions or children read it for themselves, all will learn how God's glory, wisdom, sovereignty, and power are revealed in all of creation. This is a companion volume to God's Mighty Acts in Salvation.
by Starr Meade
Long before we reach adulthood, the gospel ought to be shaping our lives. Paul taught the core truths of the gospel in his letter to the Galatians, and this collection of interactive readings for preteens applies those truths in understandable ways. Each reading begins with a key verse and then highlights one element of the gospel in everyday terms, followed by questions and activities that reinforce Paul's teaching. Meade guides young readers to a full picture of God's saving work, as well as a real understanding of other doctrinal concepts such as justification by faith alone, the priority of Scripture, the requirements for apostleship, and the relationship between the old and new covenants. For parents and teachers who want to awaken young hearts to a lifelong commitment to the gospel, God's Mighty Acts in Salvation is a great resource. This is a companion volume to God's Mighty Acts in Creation.
by Starr Meade
In each generation, the church's most critical task is to uphold and proclaim the truth as it was delivered by the Lord. One important aspect of this task is the dililgent preparation of the church's children to continue to be the support pillar of the truth in the generation to come. With Training Hearts, and Teaching Minds, teaching the Shorter Catechism to your family has never been easier. This book of daily readings contains a question and answer from the catechism with six days' worth of devotional readings for each question (with 107 questions total). We must fulfill our responsibility now, so that we will be able to say with assurance, as Paul said to Timothy, "Retain the standard of sound words which you have heard from me, in the faith and love which are in Christ Jesus."
Supplies two needs: (1) profitable, useable material for family devotions and (2) a practical guide for parents helping their children learn the catechism.
by Starr Meade
Starr Meade enables families with school-age children to participate in satisfying devotions together by taking them through The Heidelberg Catechism explaining its answers in short devotional readings accompanied by relevant Bible passages.
by Heather Molendyk
Like the wise man in Scripture, we want our children's spiritual foundations to run deep, providing stability and protection. With training to set their minds on God's truth and anchor them to resources that have strengthened the Church for centuries, our children can stand strong when their faith is tested by doubt and the storms of life.
Building Little Pillars equips them with strong supports! Through Bible memory, Bible stories, hands-on learning, and life applications of spiritual truths found in the Apostles' Creed, the Ten Commandments, and the Lord's Prayer, Building Little Pillars lays a firm foundation for covenant children as they begin their journey of faith.
Children & Teen Devotionals
by Alison Mitchell
XTB (Explore the Bible) devotional series include daily Bible-reading notes with puzzles, pictures, prayers, and stickers! This Issue One book focuses on Genesis, Matthew, and Acts, including the beginning of the universe, the beginning of the early church and the beginning of Jesus' life and teaching on earth. 65 activity days plus 26 days of extra reading. Ages 7 - 11.
Children will be introduced to the inductive method of studying God's Word for themselves as they witness His personal message, His purpose, and His promises unfold in their daily lives.
Series titles include:
How to Study Your Bible for Kids
Cracking the Covenant Code for Kids
God Has Big Plans for You, Esther
Wrong Way, Jonah!
Becoming God's Champion
Fast Forward to The Future, Daniel 7-12
by Martin Cole
Discover: Issue 1, Bible Notes for Young People provides 3 months of exploring God's Word for youth ages 11 to 13. Using fun puzzles along with Scripture readings will help young readers develop a daily routine of Bible study and prayer. Book 1 contains studies on: Genesis 1-11: In the Beginning, Mark 1-5: All about Jesus, 1 & 2 Kings (Elijah): Fiery Prophet, and Jonah - The runaway.
ABOUT THE SERIES: Discover Bible notes have been helping young people understand and apply the Bible for over a decade. Now, these popular devotions have been turned into a collection of 12 books that covers the major Bible books, events and characters. Discover encourages a daily routine of Bible study and prayer, which will help young people set a pattern for the rest of their lives. Ages 11 to 13.
by Martin Cole
Engage exists to help you plug into your Bible. Through Engage's pages we want to plunge into God's awesome word: discovering who God is and what He's like; seeing what God's done for us through Jesus; and exploring practical ways of living for Him. The Bible is packed with amazing stories and life-changing teaching. It's time to dive into the Bible and see God change our lives...
The first issue of Engage - daily Bible reading notes for teenagers. This issue looks at Psalms, John, Genesis, Amos, Colossians and Jonah! It also examines questions like 'has Science disproved Christianity?', 'what's the bible anyway?' and contains articles on the Trinity and looking after the planet.
by John Kwasny
God's Word teaches us that the home is to be the primary location of the discipleship of children. Parents are charged for teach the Scripture to the next generation, and calling upon their children to love God and embrace Jesus Christ as their Savior and Lord. Yet, the reality is that many parents find it a challenge to have meaningful substantive conversations about the gospel and what it means to follow Jesus.
Established in the Faith will help guide your conversations systematically so that you can help your child build a foundational knowledge of God, Jesus, the Holy Spirit, and the Church. It also includes prompts to help you share your own faith story. Each of the 12 Conversations are grounded in God's Word and will encourage your child to think deeply about what it means to be a follower of Christ.
by Robbie Fox Castleman
"Daddy, I'd like you to meet my children." That's Robbie Castleman's attitude about taking her children to church. She believes that Sunday morning isn't a success if she has only managed to keep the kids quiet. And she knows there's more to church for kids than trying out their new coloring books. Children are at church for the same reason as their parents: for the privilege of worshiping God. Worship, Castleman writes, is "the most important thing you can ever train your child to do." So with infectious passion, nitty-gritty advice and a touch of humor, she shows you how to help your children (from toddlers to teenagers) enter into worship. In this significantly revised and updated edition Castleman includes a new preface and two new appendices that provide new perspectives on children's sermon and intergenerational community. She also provides a study guide for personal reflection or group discussion. More than ever, Parenting in the Pew is essential reading for parents and worship leaders who want to help children make joyful noises unto the Lord.
by Paul David Tripp
This book by Paul David Tripp sets forth fourteen practical and gospel-centered principles that help parents view their role through the lens of God's grace, radically changing the way they think about every interaction with their children.
by Susan Hunt
From the snuggliest infant to the wisest old matriarch, our congregations make up God's covenant family, and we are indeed Heirs of the Covenant. The covenant that began in Genesis and unfolds all the way through Revelation is God's promise to Abraham: I will be your God, you will be my people, and I will dwell among you.
God's covenant faithfulness is multigenerational and the promises, privileges, and obligations of the covenant are to be passed from generation to generation. Regardless of where you fit in this big family we call the church, you will be motivated by this practical plan to see how God's covenant promise integrates into all of life: a biblical legacy of faith for all generations.
by Justin S. Holcomb, Lindsey A. Holcomb
Simple, relatable story for two- to eight-year-old children, designed to help them protect their bodies.Includes colorful, age-appropriate illustrations. Conveys a clear message that God made every part of the human body and that every part is, therefore, good (the doctrine of creation). Gently opens the conversation about sexual abuse that every family needs to have. Facilitates open conversations about appropriate and inappropriate touch. Overcomes confusion, secrecy, and embarrassment about bodies with truth.
God Made All of Me is the first children's book written by Rid of My Disgrace authors Justin and Lindsey Holcomb. Parents of young children themselves, the Holcombs regularly counsel victims of sexual abuse and are profoundly aware of the dangers kids face. Their simple and relatable story, designed to help children protect their bodies, will be an important resource for every family with young children.
by Marty Machowski
God Made Boys and Girls helps children understand that their gender is a gift from the God who made them and loves them. The story begins as the girls and boys at Grace Christian School are discussing if boys will always be boys and girls will always be girls.
Their teacher explains that God gives each of us the gift of being male or female before we are born, and that you continue to be a boy or a girl whether you like to climb trees or play house, play tag or color pictures, cause a ruckus or sit quietly.
In a world where there is so much confusion about gender and identity, pastor and best-selling author Marty Machowski shares the simple, clear truth that all of us are made in God's image as either male or female--and what God made is very good!
Included in the back of the book is a special section just for parents and caregivers that gives biblical guidance and help as they have this important conversation with their children.
by Gary Yagel
Today's world is constantly sending our children unbiblical messages about gender identities, gender roles, same-sex attraction, and sexual fulfillment. Gender fluidity, which is at the core of many of these views, denies the sovereignty of God and the creation of man and woman as His image-bearers. The inherent uniqueness and value of each gender is not clearly understood by our culture because of historical stereotypes and abuses. We, therefore, must help our children put a biblical lens over whatever message comes to them from the culture. That biblical lens is called complementarianism. "God created them male and female" to complement, i.e., complete each other. This mini-book is designed to equip Christian adults to understand the culture shaping their children's views of sexuality, so they can help their children respond to the deconstruction of male/female gender identities and roles taking place in our culture with gospel grace towards the sexually broken and with a whole-hearted celebration of the biblical teaching of complementarianism. Gary Yagel (MDiv., DMin.) serves as Executive Director of Forging Bonds of Brotherhood, and as the Men's Ministry Consultant for the Presbyterian Church in America. He is a trained presenter of Man in the Mirror's No Man Left Behind Seminar, and has taught as a visiting professor at Reformed Theological Seminary.
by Kristen A. Jenson
Young children deserve to be armed early against internet dangers. Good Pictures Bad Pictures Jr. makes it easy for parents to protect their young kids ages 3 to 6. Using gentle, age-appropriate messages, children will learn to Turn, Run & Tell when they are accidentally exposed to inappropriate content.Written by best-selling author Kristen A. Jenson of the original Good Pictures Bad Pictures book, the Jr. version is a comfortable, effective way for proactive parents to empower their young kids with their first internal filter!
by Kristen A Jenson
Want a natural and comfortable way to talk to your kids about pornography? This newly revised edition of the original bestseller makes that daunting discussion easy! Good Pictures Bad Pictures is a read-aloud story about a mom and dad who explain what pornography is, why it's dangerous, and how to reject it. Featuring easy-to-understand science and simple analogies, this internationally-acclaimed book engages young kids to porn-proof their own brains. With Good Pictures Bad Pictures, your child will never be caught off guard by disturbing videos or peer pressure! The 5-point CAN DO Plan teaches kids exactly what to do to protect their young minds when they see pornography.
Parents don't need to wonder what to say--simply read Good Pictures Bad Pictures to your child and move forward with confidence! You can even use this book before beginning the sex talks!
Check out these new features in the second edition.
"Let's Talk!" discussion questions at the end of each chapter help kids deepen their understanding so they'll be even more prepared to reject pornography.
All new Tips for Parents and Caregivers section offers practical advice for raising porn-proof kids in the digital age.
The most up-to-date science provides kids with even more powerful arguments against pornography.
A beautifully redesigned interior makes it easier and more fun to read!
by Luke Gilkerson
When it comes to the matter of teaching kids about sex, Christian parents are often confused about what to say and when to say it. The Talk is a series of 7 studies, all anchored in the Scriptures, that helps parents to talk meaningfully with children about sexuality. The Talk was written for parents to read with children ages 6 to 10 years old. The study supplies elementary-age children with foundational truths about sexuality at a level they can understand.
by Luke Gilkerson, Trisha Gilkerson
Acne. Pubic hair. Breasts. Squeaky voices. Menstruation. Nocturnal emissions. Make no mistake, puberty can feel like an awkward time in a child's life. But with the right perspective, children can be taught to anticipate puberty as a blessing. Changes is a series of 7 studies, anchored in the Scriptures, that helps parents talk meaningfully with children about the mental, emotional, and physical changes puberty brings. Changes was written for parents to read with children ages 8 to 12 years old. The study supplies children with a Bible-based understanding of puberty in a language they can understand.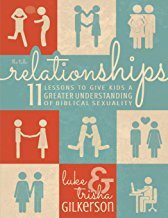 by Luke Gilkerson, Trisha Gilkerson
Relationships was written for parents to read with their kids ages 11-14 years old. This study will help prepare your teen for sexual tmptations that they are sure to encounter and give them a greater understanding of biblical sexuality. As Christian parents, it is of utmost importance that we're guiding our teens through the sometimes overwhelming sexual desires and temptations they experience. Relationships is a series of 11 Bible studies that provide a foundational understanding of how to navigate sexual temptations and desires in a godly manner.
by Tim Geiger
Explaining LGBTQ+ Identity to Your Child: Biblical Guidance and Wisdom
LGBTQ+ identities and their widespread acceptance have produced a host of questions and quandaries for Christian families. How do you help your child navigate a world where their classmate may be transgender and their neighbors a gay couple? How do you explain these issues and teach children to respond to LGBTQ+ identity with truth and love?
Tim Geiger explains how best to help young people understand LGBTQ+ identities and struggles in light of Scripture, while modeling the compassionate concern of our Savior. He also shows you how to build authentic friendships with members of the LGBTQ+ community, always remembering our common need for grace, repentance, and faith.
Tim Geiger, MDiv, is the Executive Director of Harvest USA and has been on staff since 2003. In 1997, he went to Harvest USA for help, as he struggled as a Christian with same-sex attraction for twenty years. Tim is a graduate of Westminster Theological Seminary and a Teaching Elder in the Presbyterian Church in America.
by Stan Jones, Brenna Jones
Young children can begin to develop a wondrous appreciation for God's marvelous gift of sexuality by understanding some of the basics of fetal development. In this book we discuss the growth of a child inside a mother's body and the birth process. With such instruction, young children begin to develop a trust for God's law and to see God as a lawgiver who has the best interests of His people at heart. God is the giver of good gifts!Designed for ages 3-5, and using age-appropriate language and illustrations, this book explains to young children the marvelous bodies God gave them.
by Carolyn Nystrom
Before I Was Born emphasizes the creational goodness of our bodies, our existence as men and women, and our sexual organs. This book introduces new topics as well, including the growth and change that occur as boys and girls become men and women. It includes a tactful but direct explanation of sexual intercourse between a husband and wife. Before I Was Born explains in age-appropriate language the basic nature of sexual intercourse between a husband and wife and discusses conception, fetal development, childbirth, and breastfeeding. For children ages 5 to 8.
by Stan Jones, Brenna Jones
Your kids know about sex. But what they've gathered from TV, other kids, or the internet doesn't tell them everything or answer all of their questions. What's the Big Deal? was written to help parents provide the answers to their 8-to-12-year-olds. This book explains the basic facts about sex and related issues such as: Why God made adults so that they want to have sex, What God actually says in the Bible about sex and why it's designed for marriage, The amazing changes ahead of you during puberty How to respond when you feel sexual pressure from friends, TV shows, movies, and magazines.
Your kids can read this book with you so you can discuss it together. This provides them the safe space to ask hard questions they might find embarrassing. The book will help kids understand what a beautiful and exciting gift from God sexuality is meant to be.
Now revised and updated with: Separate chapters on puberty for boys and girls, a chapter on the dangers of pornography, an expanded age range (formerly 8 to 11, now 8 to 12).
by Stan Jones, Brenna Jones
Puberty marks the beginning of significant changes in a child's relationships with parents and the opposite sex. It's an exciting but often stressful time as a child transitions to adulthood. Facing the Factsgives children the information needed to understand exactly what's happening to their bodies during the years ahead and why God planned it to happen just that way. They'll learn about How girls' and boys' bodies change, both inside and out Exactly how a woman gets pregnant and gives birth Why God wants you to save sex for marriage Love, dating, and how relationships mature Now revised and updated with An introduction to differing views on sex based on worldview More thorough material on Christian morality and the broader theological meaning of sex as appropriate for a young person Chapters on masturbation, sexual addiction, gender identity, and same-sex love.
It is easier to speak smilingly about bunnies and baskets on Easter than it is to explore Christ's cruel death and miraculous resurrection. But for every parent who believes that Christ is risen indeed, there is Mission Accomplished. Fourteen theologically rich yet kid-friendly devotions connect well-known Easter stories to the overall biblical message of redemption. Starts with the Passion Week and extends into the week beyond Easter Sunday, walking kids through the immediate aftermath of the resurrection and then unpacking the implications of Jesus death and resurrection for our own lives. Great for busy parents and families, each day's core devotion can be completed in just ten minutes. Family activities are included to give parents options for helping kids of all ages to understand and apply Easter truths and can be completed in an additional ten minutes. Full text of classic hymns for your family to sing in worship.
by Family Life
The Resurrection Eggs offer children a wonderful hands-on resource to learn about Jesus' Resurrection Story. Perfect for use at home, Sunday School, children's ministry and more, this set of 12 brightly colored plastic eggs crack open to reveal miniature symbols of Easter inside. Use the updated, illustrated companion booklet to help explain the significance of each object---perfect for opening up discussion about Easter and the Resurrection with kids, ages 3 years and older. Includes 12 brightly-colored eggs with miniature symbols stored in a plastic carton, and an updated companion booklet in English and Spanish with illustrated Bible stories.